About Riversbend Campground
Designed to create a venue for camping, fishing, hiking, bicycling, and canoeing for outdoor enthusiasts, Rivers Bend welcomes visitors from surrounding communities and states.
Rivers Bend was born when a generous donation of 94 acres by Van Zee Enterprises was given to the City of Rock Valley. Previously used to mine sand and gravel, this former quarry was converted into a regional asset. The campground was constructed by the major efforts of the City Crew and students from Northwest Iowa Community College.
The City of Rock Valley encourages you to visit and enjoy this beautiful campground. It will be an experience worth repeating!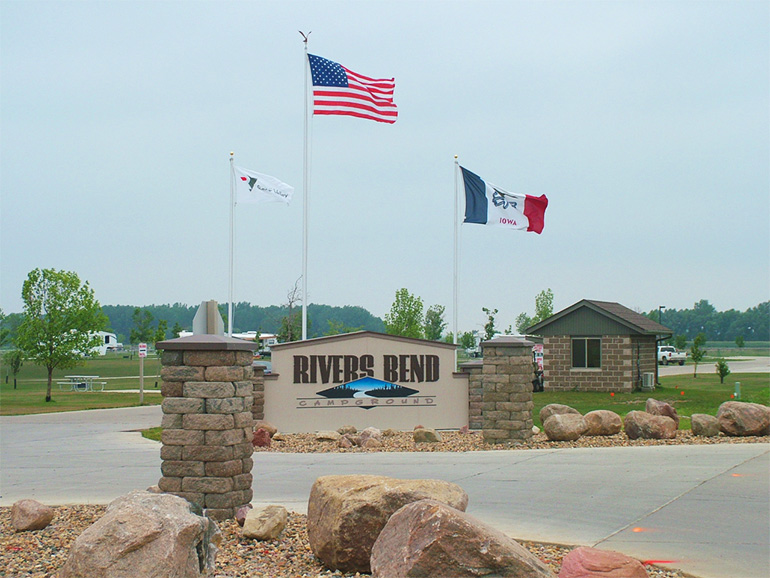 Very nice campground. All camping pads are concrete. Trees need to mature before any shade will be offered but I suppose that's what awnings are for. Nice beach to enjoy the sunshine and plenty of bike trails to keep you active. Fishing is abundant with access to 2 fishing ponds as well as the Rock River. So when you're ready to relax and unwind check in at Rivers Bend…..You'll love your stay.
Ward Van Ommerman | 9-28-2018
Great place to camp, lots for kids to do. Great staff an a clean place. Can't wait to camp there again soon..
Curt Hawkins | 04-24-2017
Just got done racing the 1st Rivers Bend Shootout this past wknd at your facility. Your place is AWESOME.
Krista Maki-Zurn | 08-23-2015